NOTE: Due to the advent of COVID19 and ill health, FTBW have discontinued their public forays for the foreseeable future.  However, Field Mycologist, Andy Overall is available for surveys (see Surveys & Consulting)  
Fungi to be With is dedicated to connecting the Greater London public to the natural environment through the magical world of fungi.  The fungi world is more diverse than you can possible imagine and, once your eyes are tuned to your the natural surroundings, be ready to be amazed at the various fungi forms, colors, shapes and sizes you encounter.

Fungi to be With has provided educational walks and workshops in a number of locations around the Greater London area for the past 20 years or so.  The walks themselves last between three and four hours and participants are usually astonished at how many mushrooms they see and how quickly the time passes. The group does not usually exceed 15 people which allows for us to stay together and learn about our fungi findings as a group.  We take time to look at the vital characteristics and determine together if the fungi found are safe to eat, plain inedible or toxic.  I have also picked out some of the most beautiful spots for us to explore….fern covered woodlands, heather laden heaths, parks with ancient trees… you will not be disappointed.  Where applicable, the events are carried out under license.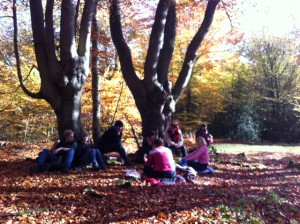 Fungi to be with is focused on providing education which enables the public to interact with fungi SAFELY, on their own terms and on their own turf!  Essentially….
You are in Safe Hands with Fungi to be with.
Fungi to be With is a vehicle by which people can interact with their natural environment, become more intimate with it and therefore nurture and care for it.  Keeping the natural environment at arms length will only serve to alienate people, making them feel disconnected from their natural environment, ultimately leading to a lack of understanding and care, a true and real danger.  A more hands on approach brings people closer to the natural environment, which helps them feel more connected, leading to more understanding and care.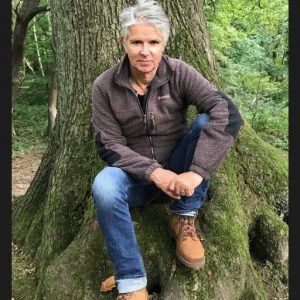 Many of the worlds celebrated figures and leading experts in fields such as Birds, Animals, Insects and Plants became so through a hands on interaction with their given subject. This is no different with fungi and I have rewardingly seen over the years, a number of people who have joined the walks, becoming more and more interested and knowledgable in the subject. The walks and workshops that I run are just one way of reaching out to find these people, and with the paucity of mycologists and taxonomists in this country, they represent a vehicle that is sorely needed.
When I first became interested in mushrooms, during the 1980′s I took it upon myself to begin the long process of getting to know these unusual organisms. Following my initial forays into the fungi world I realised the need for 'fungi to be with'. "How many other people, like me, were looking for an introduction to the mushrooms that they came across whilst out walking? As a result of these initial forays, 'Fungi To Be With' was then formed.
Some 30 years or so on and fungi to be with has an established affiliation with the British Mycological Society (BMS) and is recognised as the longest standing london based group.  In 2000 at a group leaders meeting in the Forest of Dean, the London Fungus Group  www.londonfungusgroup.org.uk  was formed to take on and handle records and collections collated by FTBW.  Some of the collections of fungi, are deposited at the fungarium in Kew Gardens. Species lists are drawn up following each foray, which are then given over to the governing bodies of the areas in which the forays take place, providing an ongoing record of the fungi that occur or re-occur in those areas over time. For instance, the recording of the fungi of Hampstead Heath began in 1996 and together with the addition of other sites, such as Epping Forest and Wimbledon Common, this continual recording has been helping to produce a clearer picture of the distribution of fungi across the home counties and in London's parks and woodlands. In this day and age of dwindling taxonomic expertise the need for this kind of work is greater than ever.
Acknowledgements would include Heather Overall, my wife and fungi partner,  Geoffrey Kibby and Mario Tortelli for their support and unrivalled general knowledge on larger fungi, Miranda Gavin, co-founder from 1996 to 2000, the late, great, Nick Legon and also Peter Roberts & Brian Spooner ex Kew Mycologists for their past help.  And presently at Kew, Martyn Ainsworth and Mariko Parslow for their help with the deposit of my voucher specimens and other misc. matters. Kare Liimatainen for all his help with DNA sequencing, resulting in my first new to science, Cortinarius heatherae. And last but certainly not least, Keir Mottram for his invaluable help on many of the surveys I have carried out and Mark Spencer, Botanist at the Natural History Museum for his support and encouragement.