RUSSULA – white to ochre, brittle gills which will flake to the touch.  Wide variety of colours.

AGARICUS– white-ish cap…may be tinged in yellow or pink….pink to brown gills – like a shop mushroom.       Have ring at top of stem.

AMANITA – white gills that will NOT flake to touch…will have rings or ring remnants on stem.                                                     Some have sack on bottom.
BOLETES – brown/red/orange cap…… tubes on underside instead of gills

LACTARIUS – will excrete milky or clear liquid from gills when rubbed
DECEIVERS  – small purple or orange cap with stem and gills the same colour and gills are widely spaced

INK CAPS – quite small, fragile and found in groups growing on wood and mulch.

MYCENA –  very small, fragile mushroom, may be found in clumps on fallen wood

TREE FUNGI  – examples of bracket type fungi

TRICHOLOMA –very large family but all with gills attaching to stem

CORINARIUS – another large family in a lot of colours. The most distinctive characteristic is webbing     from the cap margin attaching to the stem.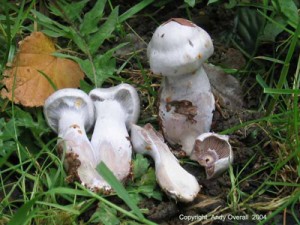 NEVER, NEVER INGEST FUNGI WITHOUT VERIFICATION FROM AN EXPERT