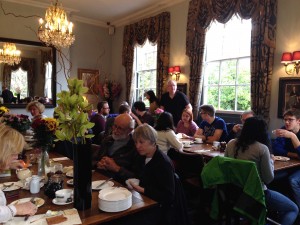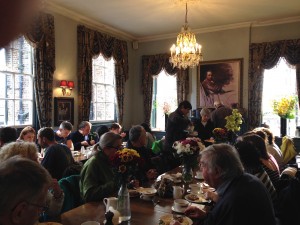 Fungi to be with are delighted to announce that this years Breakfast Foray will again be hosted by the Holly Bush in Hampstead. Look forward to an exciting new menu in this historic venue. 
£35 per person
Saturday November 11th
Saturday November 18th
IF THIS BREAKFAST IS FOR A GIFT, SELECT GIFT CARD
Breakfast Gift Card £35.00
Once you have made your booking you will receive a confirmation email accompanied by a check list and directions for the meeting point.
The first Breakfast Foray took place in 2007 and this has quickly become a sell-out event and as a result we have continued with this popular event.
We all meet at 8.30am and we have a 2 hour foray on Hampstead Heath and then head to fungi to be with for breakfast. Breakfast comprises of the traditional eggs, bacon, AND mushrooms (of course), catering for vegetarians and meat lovers alike.
In terms of attire,  we are walking off the beaten track in many of these walks so please have a sensible pair of walking shoes or 'wellies' if it's wet weather. If it is raining I would suggest waterproof trousers as well as jackets if you have them available. Layers always work well with our unpredictable British weather too………it's amazing how changeable the climate can be within several hours.
As a note, fungi used in the breakfast has been collected in small amounts  from a number of different sites, across the UK and throughout the year, therefore resulting in a very minimal, non-discernible, impact. Hope to see you there!