We meet  behind Jack Straws Castle in the car park between 9.45am and 10.00 am. You will find the Jack Straws building at the top of Heath Street, past Whitestone Pond and at the top of North End Road.  The car park is off of a small entry road named Heath Brow.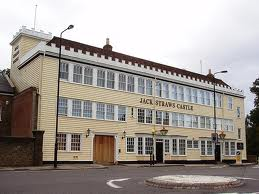 Parking is £3.50 for 2 hours, £7.40 for four hours and £6.70 for additional hour (Expensive).
The nearest tube station is Hampstead Heath and it is a 10-15 minute walk up the hill.