Fungi
Mushrooms & Toadstools of Parks, Gardens, Heaths & Woodlands
    Available Now!
an A4 hardback full colour guide covering over 750 species
                   Click on the cover to see more…………………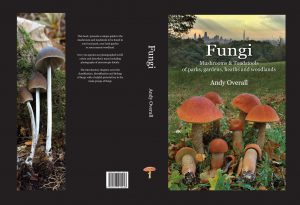 Available from
             Andy Overall, Flat 2, 39 North End Road, Golders Green, London NW11 7RJ
Pay via Pay Pal  below 
£60.00 plus £12 P&P UK only (Its a big book!) Overseas buyers please contact me RE: P&P.
Without P&P – Collect or personal handover £60.00
                               (if wanting to collect, please email mush.room@fungitobewith.org)
                                         Or please enclose a cheque for £72.00 (inc. P&P UK ) 
                      Please ensure you include your full name & address, contact number/email address