We have several events through the year that focus on our favourite food, fungi! Select the event you are interested in to get more information and book.
Breakfasts are hosted from the Holly Bush Pub in Hampstead We all meet at 8.30am and we have a 2 hour foray on Hampstead Heath and then head to the Holly Bush for breakfast. Breakfast comprises of the traditional eggs, bacon, AND mushrooms (of course) but we also have a number of other fungi dishes, such as mushroom pancakes & fungi hash browns..…..something for everyone, vegetarians and meat lovers alike.  The Menu will posted when finalised.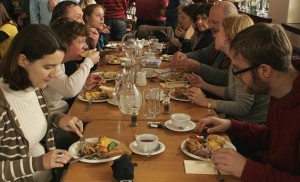 Lunches are preceded with a morning foray and workshop. Set in my home it offers a comfortable surrounding for the workshop where we kick off at 10am with informal introductions over coffee and cake. We begin the workshop with an introduction to fungi, its role in the environment and the characteristics that are vital to identifying. This is followed by a two hour walk on Hampstead Heath (5 minutes away). On returning to my home my wife serves a four course leisurely lunch.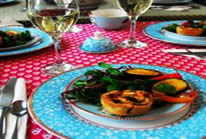 There will be three Supper Clubs scheduled throughout the year so please let us know if you would like to go on our list. We will then contact you with the dates as we put on the calendar.  These are very popular events!